Embraer
Embraer announced the launch of IKON, a cloud system for capturing, storing and analyzing high volume data for the predictive maintenance of the E-Jets family. The new system is totally based on the Amazon Web Services (AWS) platform and was developed by Embraer, with the support of the suppliers AWS ProServe and Claranet, using Big Data and Analytics technologies to deliver 96% productivity gains in the aircraft analysis and data processing, setting new standards in aeronautical services and support.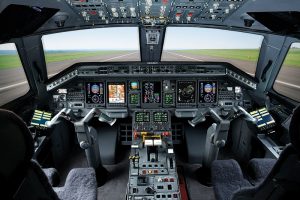 Offering a high degree of scalability, elasticity, durability and analysis, the system delivers efficient management of processing and storage capacity, making possible for Embraer to optimize the data ingestion time of the E-Jets E2. Using AWS's set of analytics services, this new technology identifies data patterns, and is even able to pinpoint and solve potential aircraft issues before they occur. This ability to perform predictive maintenance will help deliver new feature enhancements to the E2 and accelerate the delivery of improvements to previous models.
Airbus
The first Airbus C295, purchased by the Government of Canada for the Royal Canadian Air Force's (RCAF) Fixed Wing Search and Rescue Aircraft Replacement (FWSAR) program, has completed its maiden flight, marking a key milestone towards delivery by the end of 2019 to begin operational testing by the RCAF. The aircraft, designated CC-295 for the Canadian customer, took off from Seville, Spain, on 4 July at 20:20 local time (GMT+1) and landed back on site one hour and 27 minutes later.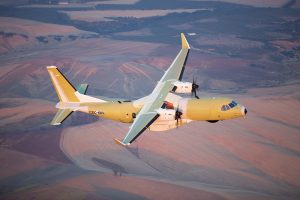 Boeing
Boeing is launching its latest round of flight-testing to assess new technologies that could address real-world challenges for airplane operators and passengers — from enhancing safety and sustainability to improving the flying experience. The company is debuting a Boeing 777 that will serve as the 2019 flying test bed for 50 projects.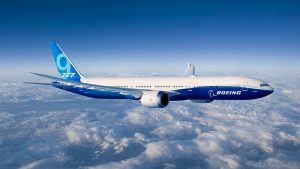 "This is the latest addition to our ecoDemonstrator program, where we look at how crew and passengers can have a better experience and how technologies can make flying safer, more efficient and more enjoyable," said Mike Sinnett, vice president of product strategy and future airplane development at Boeing Commercial Airplanes. "Using the 777 flying test bed lets us learn faster and move forward on improvements much quicker and with greater fidelity in defining their value."
Among the technologies being tested on this year's ecoDemonstrator program are:
Sharing digital information between air traffic control, the flight deck and an airline's operations center to optimize routing efficiency and safety.
An electronic flight bag application that uses next-generation communications to automatically provide rerouting information to pilots when weather conditions warrant.
Connected cabin technologies that make galleys and lavatories smart, and monitor cabin conditions such as temperature and humidity to facilitate automatic adjustments.
Cameras to provide more passengers with a view outside the airplane. Boeing's ecoDemonstrator program first took to the skies in 2012. Five airplanes — a 737-800, 787-8 Dreamliner, 757, Embraer E170 and 777 Freighter — have tested 112 technologies through 2018. More than a third of the technologies have transitioned to implementation at Boeing or by program partners. Nearly half remain in further development while testing on the other projects was discontinued after learnings were accomplished.
Among the technologies now in use are iPad apps that provide real-time information to pilots, enabling them to reduce fuel use and emissions; custom approach path information to reduce community noise; and a camera system on the 777X that will help pilots avoid ground obstacles.
A key part of the ecoDemonstrator program is collaboration with industry partners to jointly test technologies and share learnings that advance aviation. More than a dozen partners are participating in the 2019 program, including an industry consortium developing a connectivity standard for networked cabins of the future known as iCabin.
Flight tests will be conducted this fall. The flights will include a trip to Frankfurt Airport in Germany, where the ecoDemonstrator's technology mission will be presented to government officials, industry representatives and STEM students to help inspire the next generation in aerospace leadership. A majority of the test flights will fly on sustainable aviation fuel to reduce carbon dioxide emissions and demonstrate the fuel's viability.
Bombardier
Embraer announced the launch of IKON, a cloud syBombardier's family of high-performance business jets offers the perfect "ready-made" aircraft for C4ISR operations.  Their excellent high speed cruise, loiter time capabilities at low speeds and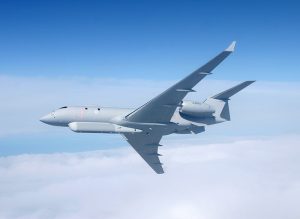 high altitudes and higher ceiling providing greater look-down capability provide the performance required.
Providing solid performance parameters*:
Loiter time in excess of 2 hours.
Top cruise speed of mach .88.
45,000 typical operating altitude.
Adaptable to Meet the Mission
Beyond these superior platform capabilities, Global aircraft offer spacious wide-body, stand-up cabin that can be tailored to a wide range of configurations. Each Global aircraft offers personnel unrestricted access to the entire cabin in flight.
Moreover, because these jets feature four engine-driven generators and an air-operable auxiliary power unit, they provide up to 205 kVA to all aircraft systems, including C4ISR mission equipment.
Our Global aircraft are also equipped with Rockwell Collins' advanced Pro Line Fusion avionics suite. The first avionics system with synthetic vision on a head-up display, it features a visor that folds down and presents the pilot with all the necessary aircraft performance, mapping and terrain information – making for excellent situational awareness even in the worst weather.
New retrofit solution demonstrated as part of Sikorsky's Optionally Piloted Vehicle (OPV) system Triple redundant system for safety critical applications includes "jam free" electromechanical actuators.
PARIS (June 17, 2019) – Collins Aerospace Systems, a unit of United Technologies Corp. (NYSE: UTX), with Sikorsky, a Lockheed Martin company, has developed a new technologically advanced fly-by-wire retrofit solution that enables autonomous flight for rotary and fixed wing aircraft. The technology was demonstrated as part of Sikorsky's Optionally Piloted Vehicle (OPV) system. Sikorsky's S-70 OPV Black Hawk flew for the first time on May 29 as part of the DARPA Aircrew Labor In-Cockpit Automation System (ALIAS) program.
Designed for safety critical applications, the new system is triple redundant and replaces a mechanical system of rods and pulleys with electromechanical actuators controlled by an enhanced flight control computer. Collins Aerospace engineers worked with Sikorsky to design this "jam free" system with purely magnetic coupling, which eliminates the need for gearing, ball screws or clutches. This marks the first time such a system has been used in a safety critical aerospace application.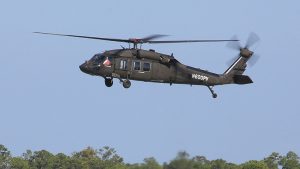 The revolutionary design of the fly-by-wire solution allows much of the logic that would typically reside within the primary flight control computer to now reside externally in its own control module or the actuator itself. This further simplifies the system architecture and increases reliability. The system's design allows it to be installed without modifying the hydraulic system or hydraulic actuator, removing the need for re-qualification of the hydraulic system and thus providing a more affordable retrofit option.
This advanced technology offering from Collins Aerospace complements the next-gen Vehicle Management Computer (VMC) that the company announced it was developing at the 2018 Farnborough International Air Show. With 20 times the computing power of the company's existing flight control computer, the VMC will enable fly-by-wire technology and autonomous flight for new and retrofit applications in civil and military aircraft, and is anticipated to reach the market in 2022.