Holographic Touch: The New Paradigm in Pathogen-free Interaction
The global pandemic has forever altered our lives.
Social distancing is the new norm, and wearing masks in public is encouraged, if not mandated. Nowhere is the determination toward providing a safe and germ-free environment more evident than the measures banks, restaurants, supermarkets and other public institutions are taking to ensure customers can safely interact with their displays and POS terminals.
Recent touchless innovations range from the simple to the sublime. Restaurant industry solutions, for example, start at disposable menus and anti-microbial touch screens and quickly evolve to QR scanning and location codes, digital menus, smartphone ordering and payment options. OEMs across the industry are employing contactless technologies for displays using Infrared (IR), Light Detection & Ranging (LiDAR), and 'Predictive Touch', Voice Activation & Control, ultrasound, and optics.
In response to the demand for a quick, economical and effective contactless solution, Holo Industries has invented a practical contactless technology by combining optics, sensors, and other hardware and components to create a ground-breaking holographic solution with touch, scroll, pinch and other functions — in mid-air. We call it the
JANVS I*
*Janvs: the two-faced Roman God of duality and new beginnings
With JANVS I your customers can have a safe and germ-free interactive experience.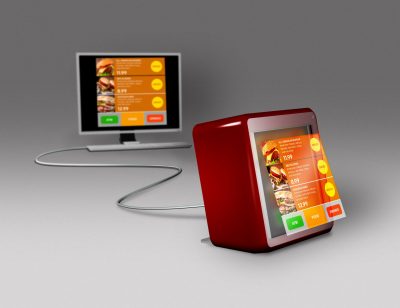 JANVS I Features:
Easy to install and operate, connects to any device with a USB or HDMI port, and available in 120V or
Constructed of light, durable composites, with a small footprint: 10" H x 8" W X 5"
Tamper-proof and scratch-resistant
The bright holographic image "floats" approximately 2-3" and at a 45° angle from the front of the display, making it easy for everyone, including the wheel-chair-bound, to easily
Normal functions such as touch, pinch and scroll are as quick and
Less clean-up: Since there is no direct contact between your finger and the device, normal activity doesn't leave residual fingerprints or smudges on the
JANVS l comes in matte black, but can be ordered in white, dark red, custom colors or private-label for large orders. The illustrations below (Figure 2) are examples of an airport check-in (left), POS/payment terminal (middle), and an airport counter check-in (right). The JANVSI can also be installed in restaurant counters, bank stations, etc. (Figure 2).
JANVS I Specifications:
Operates under bright lights or in the dark
Rugged design
Temperatures range: –10°C to +55°C
Humidity range: 5% to 95%
Audio: Built-in speaker (optional)
Works on Windows & Linux-based systems
Touch points: 2
Diameter: >5mm
Resolution: 1mm
Response time: 50ms (average)
Image size: 7 inch
UL/CE Certification in process
Made in the USA

Summary
For many restauranteurs, bank managers, hotel owners and many others searching for a simple, cost-effective solution to providing a safe and germ-free environment for their customers, JANVS I will be an easy choice
More information about JANVS I can be found at www.holoind.com
Holo Industries is a brand of Convergence Promotions LLC